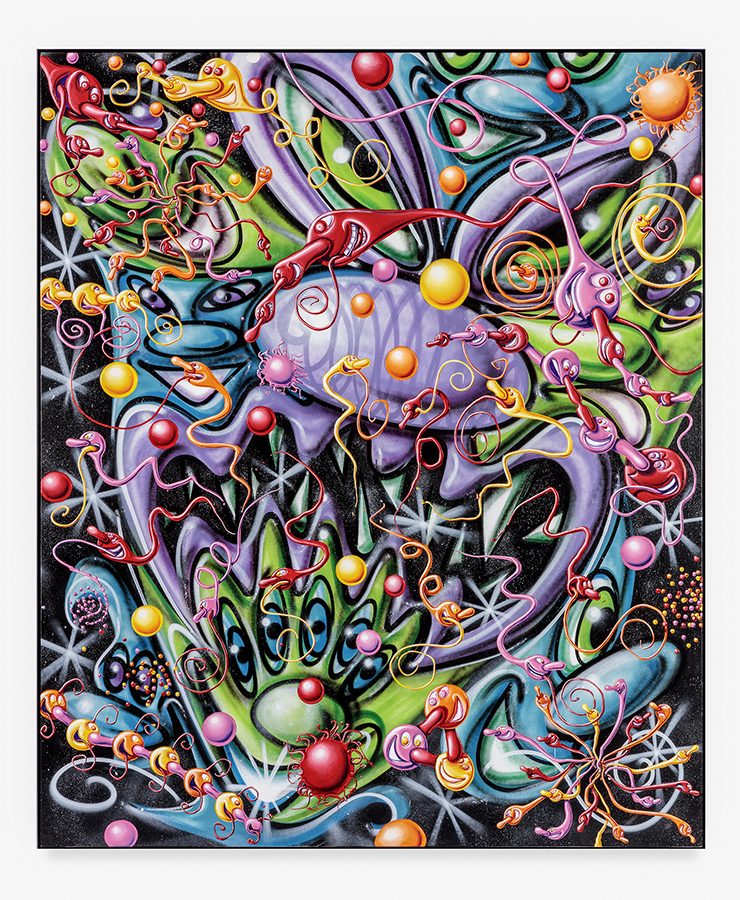 In his current show at Honor Fraser in Los Angeles, Kenny Scharf shares wild new works that include new mixed-media paintings, sculptures, assemblages, and more. "Optimistically Melting!" takes over the space through Nov. 16, and in it, viewers find an veteran artist who maintains his graffiti sensibilities yet constantly pushes his interests into new arenas.
The gallery, in particular, makes note of his ceramics approach: "Expanding his sculptural practice, Kenny Scharf will unveil a group of large ceramics featuring his signature characters in the round. Produced in collaboration with Stan Edmondson in Pasadena, these works were fired locally and hand-glazed by the artist. Bordering on living sculpture, the pots will contain greenery to be nurtured beyond the term of the exhibition, a gesture of possibility and hope rom the artist. In addition to converting carbon dioxide into oxygen, caring for plants has proven to be a beneficial practice for humans as it requires patience, reduces stress, and promotes close observation. These plants grown by the artist himself contain Scharf's intention for a more respectful and conscientious future."
See more on the gallery's site and Scharf's own page.