Last Friday, Kohn Gallery celebrated the opening of its new space in Hollywood with Mark Ryden's highly anticipated exhibition, "The Gay 90s: West". The gallery walls were painted pale pink for the occasion, complimenting Ryden's softly colored paintings that glamorize 19th century nostalgia and old time kitsch. Ryden's latest neoclassical and pop surrealistic works are populated by young girls, religious icons, and street peddling Abraham Lincoln in 1890s America. Each piece is framed in Japanese wood, an art in its own right, ornately carved in bas-relief with motifs like birds, leafy branches, and the faces of his characters.

Mark Ryden with his work.
(Photo by Stefanie Keenan/Getty Images for Kohn Gallery)
Despite hot weather, fans lined up for blocks to see the show and get a signed copy of his "Old Tyme Music" LP. It is inspired by the 1892 song, "Daisy Bell (Bicycle Built for Two)", of which an original recording can be heard playing on a gramophone throughout the gallery. The record features multiple versions of this song by celebrities like Katy Perry, who appears in the painting "Katy Aphrodite". The proceeds from all 500 records benefit Little Kids Rock, a nonprofit that supports music education in disadvantaged schools.
Ryden is no stranger to the music world. His art has donned the covers of popular albums by Red Hot Chilli Pepers to Michael Jackson, and inspired fashion such as Lady Gaga's infamous meat dress, from his painting "Incarnation". In the next room, which displays Ryden's concept sketches, you can find a porcelain statue of the meat dress and Abraham Lincoln pushing a meat cart. (Some of these sketches were in "The Gay 90s" Sketchbook in Hi-Fructose Volume 28.)
It is here that you will also find images that influenced this specific body of work including a wall of retro sleeves and inserts. Across the room is a diorama of "Memory Lane" teaming with vintage stuffed animals, dolls, model trains, and Barbies enjoying afternoon tea and sexual pleasure on a typical day in Ryden's world. It provides a window inside his head and encompasses the entire exhibition, like Disney's worst nightmare meets wonderful Golden Life the way only Ryden can paint it.
"The Gay 90s: West" by Mark Ryden is now on view at Kohn Gallery through June 28, 2014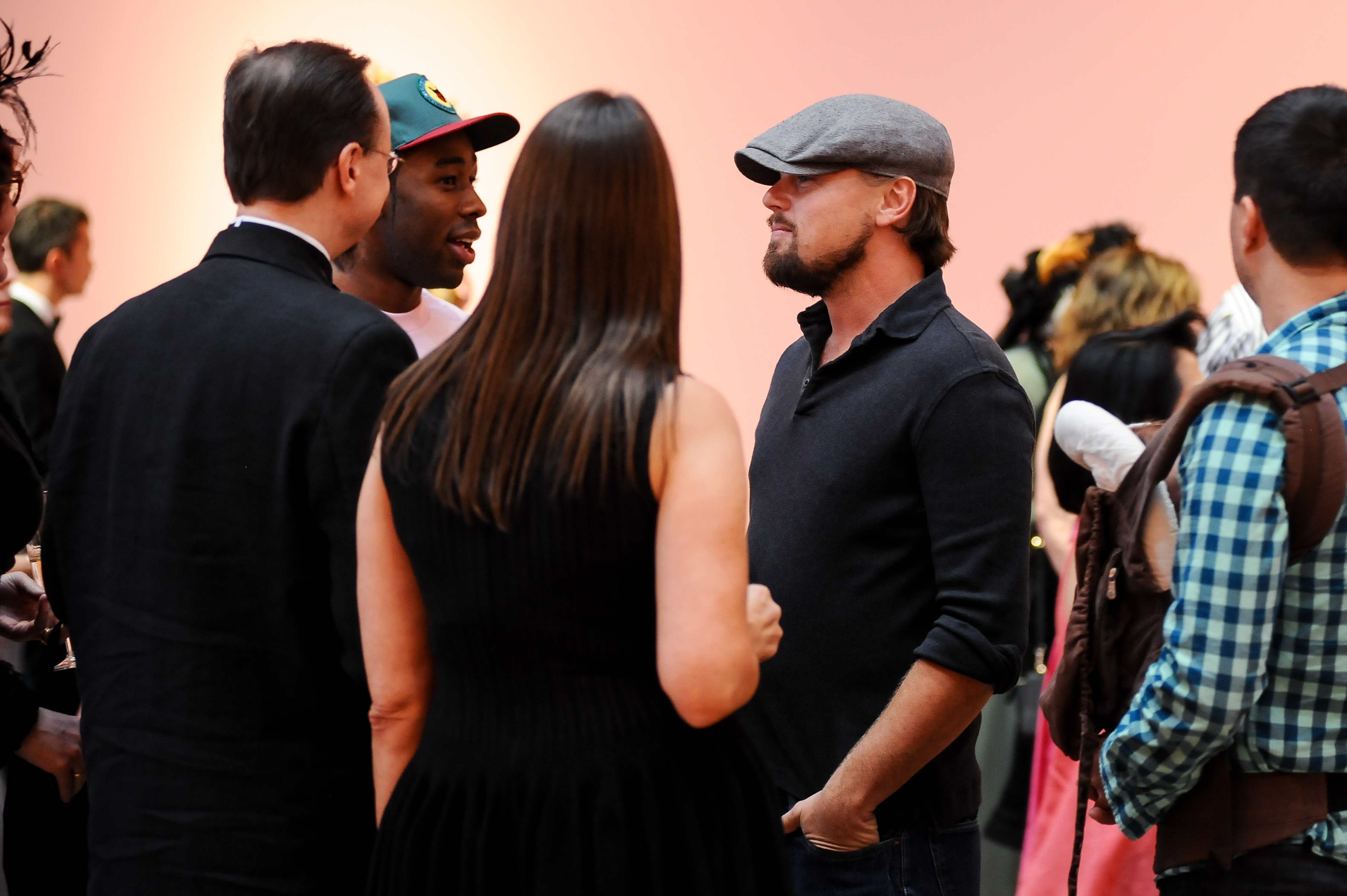 Mark Ryden with Tyler the Creator, Leonardo DiCaprio and Samantha Glaser.
(Photo by Stefanie Keenan/Getty Images for Kohn Gallery)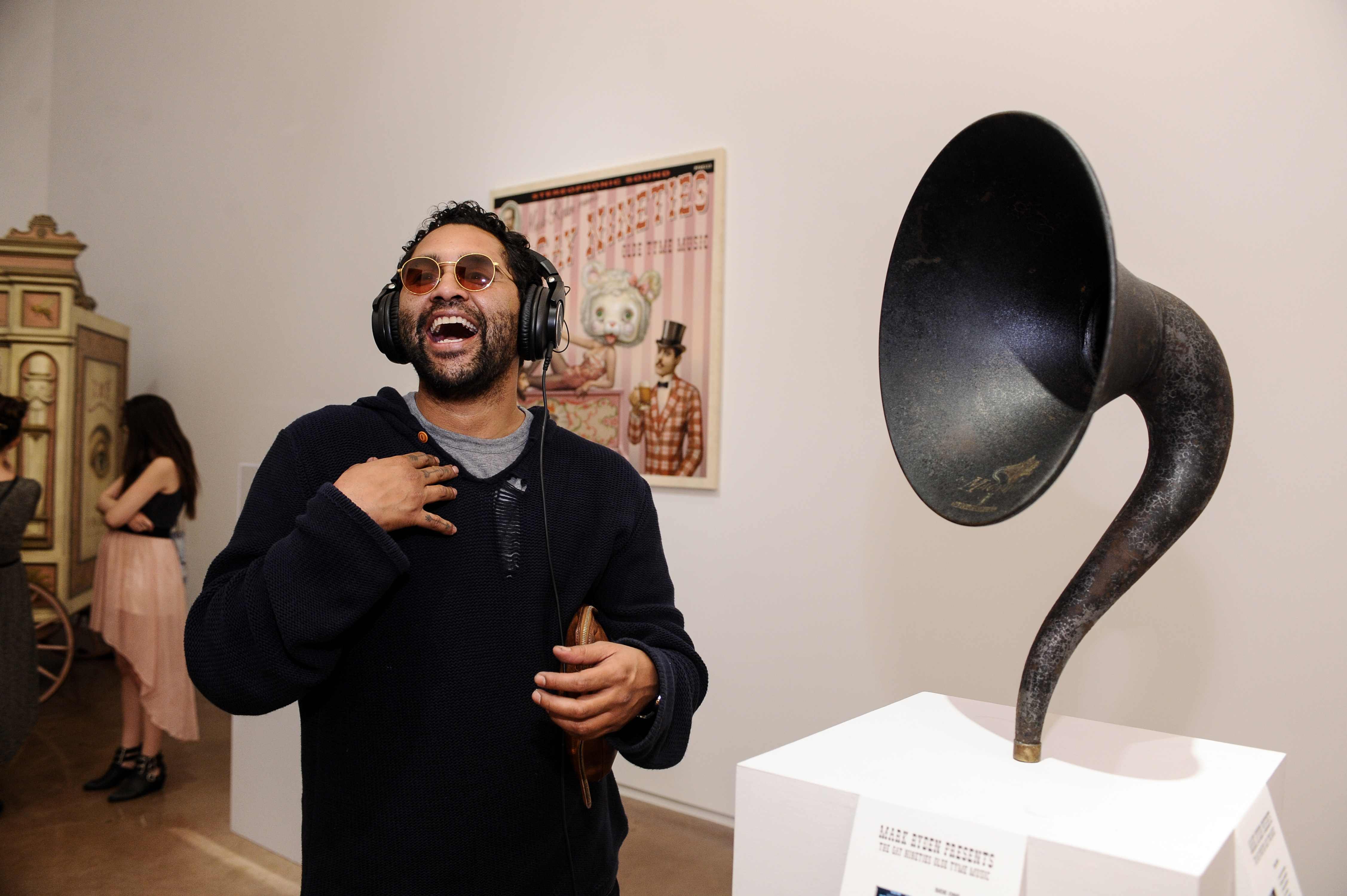 RETNA listens to "Old Tyme Music".
(Photo by Stefanie Keenan/Getty Images for Kohn Gallery)