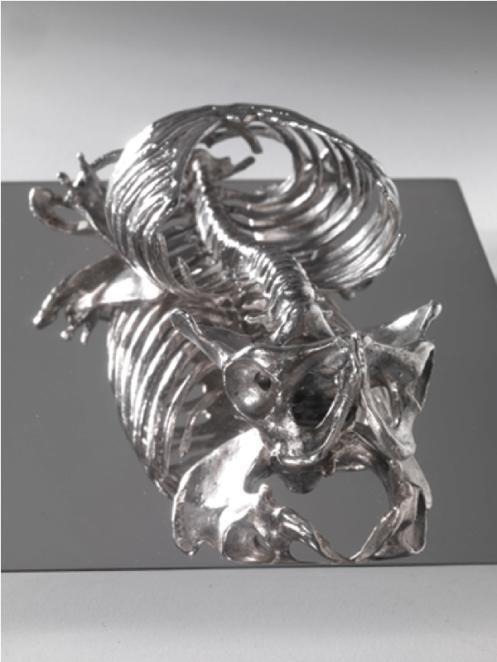 Untitled (+/-) – Mouse skeletons, mouse fur, loom, concrete – 2009
It was upon first glance at the image above that first drew me into the work of Alastair Mackie. I found it intriguing, thinking it could be slightly reminiscent of the the works of Kiel Johnson (HF Vol. 14), however upon a closer inspection of Alastair's sculptures, was pleasantly surprised to find a portfolio of such diverse works and unusual materials that I needed to delve deeper… When I asked about the piece above, Alastair explained to me that he had spent a year collecting barn-owl pellets, after processing the pellets down to the mouse fur and bones within, Mackey used the loom to create fabric from the fur, the pile of bones correlating directly to the size of the sheet of the fur. Whether utilizing hornet nests, mouse skulls, toy airplanes, matchsticks or even plain old conventional bronze, Mackie tunes us in to the dialogue between his pieces and their composite material, a conversation that the viewer need not contribute to, only listen. Partial portfolio below.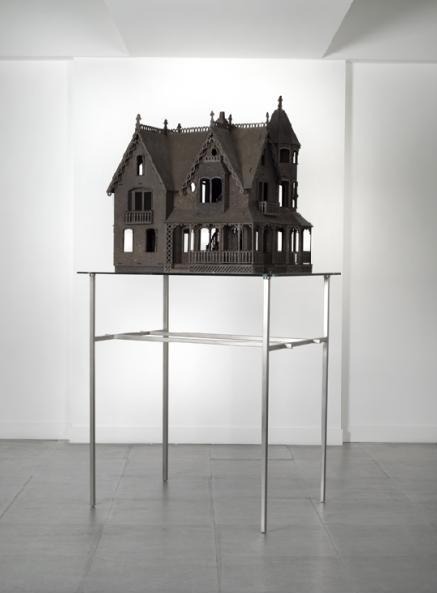 House, 2008
Wasp nests, steel and glass base
100cm x 75cm x 100cm, 135cm x 125cm x 95cm
The co-ordinates of a wooden dolls house kit have been copied, and the structure replicated from sheets made of approximately 300 pulped paper wasp and hornet nests.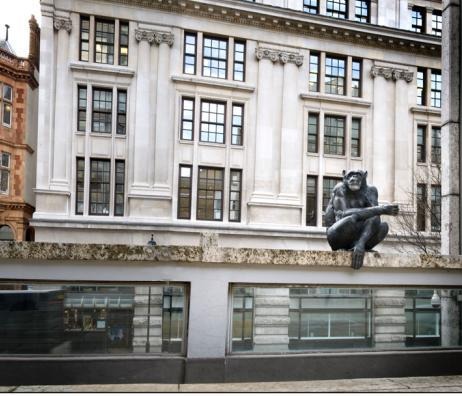 Mimetes Anon, 2009
Bronze
82cm x 52cm x 50cm
Commissioned by the Contemporary Art Society as a public sculpture for the Economist Plaza in London.The title refers to a synonym for the chimpanzee originated in the 1820s (mimetes – from the Greek word meaning 'to imitate'. Anon – at an unspecified future time).
Metamorphoses, 2009
1930's taxidermy display bell jar, mirror, wooden base
176cm x 43cm x 43cm
A 1930's taxidermy display bell jar has been transformed into a mirroring structure, using a traditional technique of mixing silver nitrate and copper sulphate.
Photo Credits: Tessa Angus, courtesy of All Visual Arts.
To view Alastair Mackie's full portfolio, please click here.