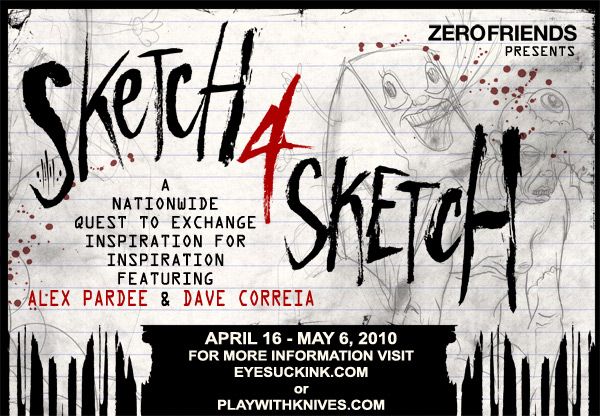 Starting this Friday, April 16th 2010, Bay Area artists Alex Pardee and Dave Correia will embark on a impromptu sketching tour across the country. Entitled Sketch 4 Sketch the basic premise is this: 1. Alex and Dave will visit your town (hopefully!) 2. You bring a sketch you made for them (yes, it can, and probably will be, terrible) 3. They don't care that it's terrible and they swap you a sketch of theirs in return! Everyone's basically a winner here, the Sketch 4 Sketch tour will be accompanied by filmmaker Stephen Reedy so hopefully this'll result in an epic documentary. To fund the tour Alex and Dave will be selling raffle tickets from the road and online, more info on the prizes and tentative tour below.
PROPOSED SCHEDULE (subject to change)
FRIDAY, April 16: SACRAMENTO, CA
SATURDAY, APRIL 17: SALT LAKE CITY, UT
SUNDAY, APRIL 18: RAWLINS, WY
MONDAY, APRIL 19: DENVER, CO
TUESDAY, APRIL 20: OMAHA, NB & DES MOINES, IA
WEDS, APRIL 21: MINNEAPOLIS, MN & MILWAUKEE, WI
THURSDAY, APRIL 22: CHICAGO, IL & TOLEDO, OH
FRIDAY, APRIL 23: BUFFALO, NY & SCRANTON, PA
SATURDAY, APRIL 24: NYC, NY
SUNDAY, APRIL 25: NYC, NY & WASHINGTON DC
MONDAY, APRIL 26: KNOXVILLE, TN & ATLANTA, GA
TUESDAY, APRIL 27: NEW ORLEANS, LA
WEDNESDAY, APRIL 28: NEW ORLEANS, LA
THURSDAY, APRIL 29: HOUSTON, TX & AUSTIN, TX
FRIDAY, APRIL 30: DALLAS, TX
SATURDAY, MAY 1: ALBUQUERQUE, NM
SUNDAY, MAY 2: PHOENIX, AZ & LAS VEGAS, NV
MONDAY, MAY 3: LAS VEGAS, NV & LOS ANGELES, CA
TUESDAY, MAY 4: LOS ANGELES, CA & SANTA BARBARA, CA
WEDNESDAY, MAY 5: SANTA CRUZ, CA & SAN FRANCISCO, CA
RAFFLE TICKET Q & A:
Q: What exactly is the purpose of selling raffle tickets?
A: I never really figured anyone would be interested in me making a big painting mess on a wall in their house, but ever since I posted the "HOME INVASION" video, where I broke into Shia LaBeouf's house and painted a mural on his wall, I have been getting asked DAILY what it would take to get me to paint a mural in someone's house. Well, both Dave and I would definitely love to go travel around and paint in everyone's house, but unfortunately, with so many commitments and our full time jobs, there isn't time. This raffle is a way to assure that both Dave and I will get to travel out to one of your houses and paint with you! Whether it's a full mural, or a few small canvases, or a collaboration with you if you are an artist yourself.
Q: Where can I buy the raffle tickets online?
A: Starting NOW, raffle tickets are available to purchase on Zerofriends either in singles or in bundles of 3. You can purchase the tickets NOW by going to the following links:
FOR SINGLE (1) TICKET, CLICK HERE
FOR 3 (3) TICKETS Bundled at a discount, CLICK HERE
Q: Why are the raffle tickets more expensive online?
A: Simply because we have to log them in, and package them to ship to you. Additionally, the tickets are very cheap IN PERSON because we want to encourage you to come find us on tour and buy them in person:)
Q: Wait, what exactly DOES the winning raffle ticket WIN? What are the rules/details?
A: Funny you should ask, because there's a LOT of them. Please check out the details here.