The second and final stop for our roll this fine evening (Dec., 13) is at CoproNason for their holiday opening and party and festivities.
The gallery was packed ALL night. I mean, from early to way after late. There was a live band that jammed the whole time and kept the momentum going (no photos, sorry). There was the big group show and a group of new works by artist Matt Bone. His oil paintings are really intense, yet with the crowd density none of the shots came out. They're better in person anyways. And now, into the show…
Ah, there they are in all their former boy band glory. It's the ever-fabulous talents of The Kevin Peterson and Kris Lewis Show.

All around amazing person and pretty darn talented fellow Martin Wittfooth. If you could only choose one new artist to discover and follow, this is your best bet.
Michael Page

Femke Hiemstra

Tin

Brian Viveros

Chet Zar, Painter of Dark
Mark Covell
Nathan Spoor painting with peoples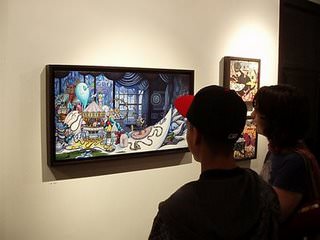 Naoto Hattori
Joe Ledbetter
Stecyk and Ausgang

Green Day bassist Mike Dirnt and Greg Escalante with NS piece. Thanks for the compliments fellas!

CoproNason Gallery
2525 Michigan Ave., T5
Santa Monica, CA 94040
310-829-2156